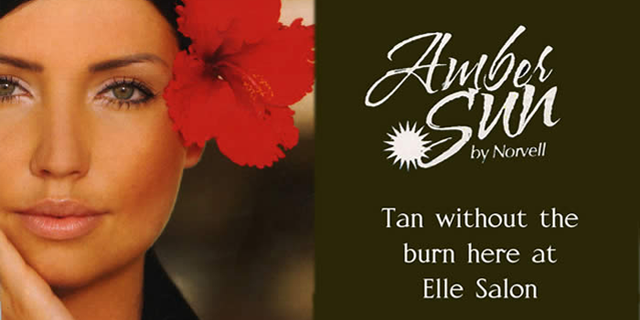 Airbrush Tanning
Sunless Airbrush Tan by Norvell

Full Body Regular

$40

Full Body Express Tan (cures in 4 hours)

- This is a great service for that unexpected event! This tan can be rinsed off in 2-4 hours depending on how dark you would like the end color to be. Light, Medium, or Dark.

$55

Half Body Regular

$30

Half Body Express

$40
Tanning Packages

| | |
| --- | --- |
| 5 Full Body Package | $175 |
| - $25 Savings | |
| Express Tan Package | $230 |
| - $40 Savings | |
| |   |
 Preparation procedures include exfoliating the body using a body scrub eight hours prior to service without applying any lotion. For more information about preparation read the "Airbrush Tanning Q&A.
Airbrush Tanning Q&A
How do self tanners work?
The principle tanning agent used in all self-tanning formulas is DHA.  This ingredient does not produce a 'real tan' by increasing the skin's melanin levels; rather it creates a tanned appearance by developing a brown color on the surface of the skin. This is a result of the reaction between the DHA, skin proteins, and oxygen that produces brown compounds.  The color developed by the DHA usually lasts 5 to 7 days and begins to fade as the top layer of the skin naturally exfoliates. 
How do I prepare for a sunless tan?
Shower, exfoliate, and moisturize the night before your tan
Avoid applying lotion the day of your session
A bathing suit or underwear may be worn during service
Bring dark, loose clothing to wear home
Will the excess liquid from a spray tan application come off on my clothes?
Some of the bronze color may rub off on clothing or bed sheets.  To minimize the chance of the tint transferring to clothing, we recommend that you wear loose-fitting, darker clothes after your spray session.  The cosmetic tint is water-soluble and in most cases will come out of clothing in the wash.
How do I prolong my tan?
Wait at least 8 hours (4 hours for Express Tan) before showering to allow the DHA to fully develop.
Keep skin moisturized.  Try Norvell's Body Butter made with cocoa butter.
 Try to also refrain from physical exertion that could result in sweating until you shower and wash off the cosmetic bronzer. 
How many days will a sunless tan last?
Typically, a sunless tan will last 7-10 days.
Exposure to sea or chlorinated water may cause early fading.
Applying  Norvell's Prolong Lotion or Amber Sun self tanning mousse after the 7-10 days can help extend your color. 
Also…
Results may vary due to hormonal changes in body such as medication, menstration, etc. 
Certain chemicals and adhesives such as bandaids may inhibit the tanning process in those areas. 
Bikini bottoms are available for purchase
RECOMMENDED FDA GUIDELINES FOR SPRAY TANNING WITH DHA
The FDA has advised that all users of DHA spray tanning services avoid inhaling or ingesting DHA. When using all-over sunless tanning sprays containing DHA it may be difficult to avoid exposure to sensitive areas including the eyes, lips, mucous membranes or internally.
The FDA along with NORVELL recommends you take the following protective measures during your sunless tanning session:

• Use of protective undergarments
• Using protective eyewear
• Noise Filters
• Sealing lips with lip balm

Please request the above items from your sunless technician.
If you have additional concerns, please consult with your health care provider.
To understand the complete FDA stance on DHA please visit www.FDA.gov