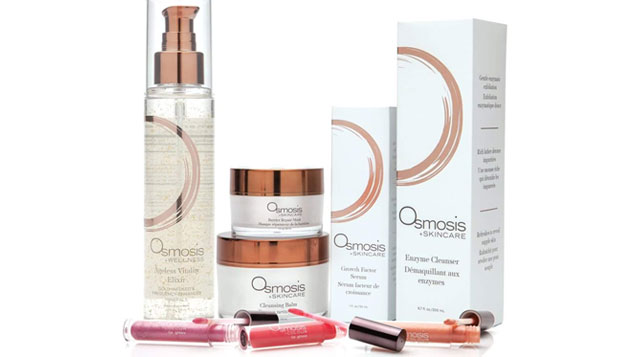 Face Care
Osmosis Medical Skincare

Whether you are looking for anti-aging remedies, rosacea relief or help with acne issues, Osmosis Beauty facials offer a specialized experience with every step custom-fit to you. An expert esthetician will select the formulation for you from a range of the finest, holistic-medical skin and wellness solution-based products.
Medi-Facial Service Options. (Recomended services for your first facial with Osmosis products). $85
Nano Pen add-on $25 (add 15 Min.)
All Facials include an arm and hand massage.
THE REMEDY
Recommended For: Sensitive Skin. This facial is formulated to rehabilitate intolerant skin and reverse the skin's sensitivity and irritation through promoting and protecting healthy collagen and supporting the skin's immune function. An infusion of innovative ingredients will create a healthy glow while addressing any troubled area.
This delightfully pampering facial will leave your skin visibly smoother and more radiant with an improved barrier. 60 Min.
SKIN REHAB
Recommended For: Blemish-Prone Skin
Incorporating a holistic facial and wellness assessment, this gentle but effective treatment targets the source of blemishes, balances oil, and helps retrain skin to maintain a healthier, clearer condition. Refresh your skin and maximize its ability to resist itself. The finishing touch is a personalized skin care program created specifically for you. 60 Min.
THE LIFT
Recommended For: Dry Skin. A luxurious facial that nurtures skin, feels wonderful, and makes you look terrific. Your face will be cleansed with sulfatefree cleansers, gently exfoliated to remove dull surface cells, and richly nourished with customized serums. Your face, neck, and shoulders will be massaged with artisan oils and you'll be rehydrated with a mask chosen for your individual skin.
This treatment also features a proprietary anti-aging thermal eye therapy to provide a rested look. 60 Min.
TIME FIGHTER
Recommended For: Aging Skin. Our most active facial treatment accelerates and maximizes the product benefits with a handcrafted massage technique, allowing you to feel and see the results immediately. Skin appears more even with enhanced elasticity, texture, tone, and clarity for a refreshed, nourished, and youthful look. There's nothing lovelier than healthy, cared-for skin. 60 Min.

NAKED SKIN
Recommended For: Pigmented and Uneven Skin to restore radiance, this treatment delivers nutrients to the skin to improve the signs of environmental damage from sun, pollution, and stress. Pigment-correcting boosters and powerful Vitamins A and C help to re-establish the look of clarity and firmness and help guard against further damage. Skin appears brighter and smoother, and a more youthful radiance is revealed. Like no facial you've ever experienced, this facial will leave your skin glowing for weeks with its breakthrough fusion technology. 60 Min.

Medi-Facial Infusion (Nano Pen Included)$120
If your skin desires a boost of rejuvenation, and moisture for firming, this treatment is for you! A powerful, non-chemical peel that incorporates customized powder actives. Your skin is not always the same, so why treat it the same. Infuse it for superior results! Nano Pen Technology included. 1 hour 15 Min.
Dermaplane/Jelly Mask $100
Dermaplaning is a method of exfoliation that consists of using a 10 gauge scalpel to gently scrape off the top layer of dulling, dead skin cells in order to reveal a smoother, brighter complexion. Dermaplaning also allows for greater penetration of our Osmosis skincare products and creates a flawless canvas for makeup to glide on smoothly. We pair a Dermaplane service with a Jelly Mask of your choice.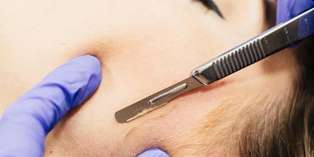 Jelly Mask offerings:
Hyluronic Acid- intense hydration
Aloe Vera- repair and cool
Kiwi- moisture and anti-aging
Lavender- calm and hydration
These masks create occllusive layer, forcing in hydration and pushing all beneficial nutrients deeply into the skin delivering dramatic results. They smell amazing too!
If you have had any cosmetic services by a doctor like botox, fillers, ect., please let us know when booking to see if your dermaplane service should be postponed.
Add on Services:
Nano Pen Technology (added to any Medi-Facial $25 (15 Min.)
Jelly Mask (added to any Osmosis Facial)$25
LightStim Therapy (standalone treatment) $30
LightStim Therapy (added to any Osmosis facial) $25
LightStim Therapy (standalone) packages:
5 sessions for $125
What is Nano Technology?
Nano technology is the no-needle alternative to micro-needling. It greatly enhances product absorption into the skin without wounding the skin or triggering inflammation.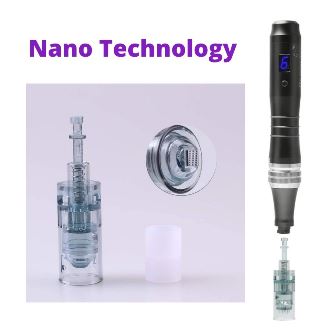 This pen works on the same principle as micro-needling or CIT (collagen induction therapy). By creating micro-channels into the skin to deliver product ingredients, that would otherwise struggle to bypass the skins lipid barrier. However, unlike micro-needling, the Nano pen does not contain any needles. The "no-needle alternative to micro-needling". It is fantastic for treating lines and wrinkles, evening skin tone and improving the appearance of acne scarring and an alternative for people who don't like the idea of micro-needling.
What is LightStim?
Just like plants, our skin and other body tissues have the ability to absorb light and convert it into energy. LightStim LED light therapy delivers light energy in a similar way plants absorb light energy from the sun. LightStim emits UV-free, beneficial light energy to the skin. Each LightStim product uses different wavelengths, or colors, of light. When this beneficial light is applied directly to the skin it can reduce fine lines and wrinkles,
temporarily increase blood circulation, and treat mild to moderate Acne. This is a perfect add-on service during your Osmosis facial masking time!
Or you can come in for several standalone sessions to help heal problem areas, such as acne or rosacea, without causing irritation!

LightStim Anti-Aging Light is an FDA-cleared device for enhancing collagen and diminishing lines.
Fun Fact!
The technology for LED Light Therapy (or Light Emitting Diode Therapy) was originally created by NASA years ago as a way of growing plants in space. Today, LED Light Therapy is a light treatment that can be used to stimulate collagen production (reducing fine lines and wrinkles) and kill acne-causing bacteria on the skin, improving skin clarity—with no pain and no downtime. It is completely safe and will not affect any dermal fillers, nor will it break them down quicker.
Aroma Therapy for Hand Massage $5